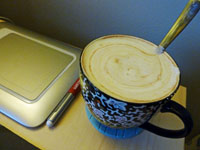 After giving my blog & Etsy shop a well needed makeover (while drinking yummy hot chocolate), I decided it was time for my homepage too. Now they all have the same colour theme & I'm very happy with the new look.
If you have any feedback for me, just leave me a comment here on the blog. =)
I still have lots more photos to edit & more obi belts to add to Etsy. On that note I want to say thank you to my lovely friends for helping me, especially to my lovely Erica, who always helps me out when I need her & is the best creative friend a girl could have.
Thank you for being my biggest fan & for inspiring me, Love you!