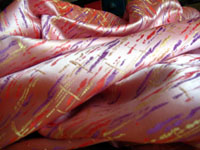 Here's a sneak peek of what I'm working on, the special dress I've been making that I'm being very secretive about. That's why I haven't been posting on the blog, I'm at the book shop all day & then I come home, eat & sew.
It's my last week of fulltime at the book shop & I get the weekend off, it will be nice to go back to normal, hopefully I won't feel so split then.
All weekend will be spent sewing & trying to get most of the dress done for the next fitting.