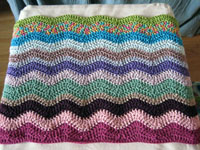 Work on the ripple continues, I've finished the first set, using all of the colours I chose.
I'm really pleased with it, I'm going to repeat this pattern about 5 times I think to get it long enough.
Not much else going on, one more week of work & then 3 weeks holiday for Sweetie & I.
I'm hoping next week will be quite easy, cause I'm not feeling my best.