Today is my birthday, my mum is on her way up for a visit over the day.
Today also marks a halfway point in my life, I was 13 ½ years old when we moved from England to Sweden & now I have lived in Sweden for 13 ½ years.
I doubt I will ever move back to England, but will I ever be swedish?, I'm not sure.
I always say I'm english, I don't think I will ever lose my little english accent that you hear when I'm speaking swedish.
I like to think of myself as a cross-breed I'm swenglish, a fun word we use in my family, but I don't think I will ever call myself swedish.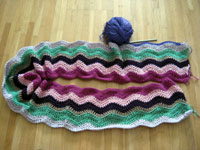 I forgot to post a photo of my new ripple blanket so here it is, I have a long way to go.