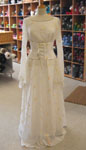 Here is the dress complete with matching corset, I had to change my original plans for the corset as I didn't have enough bias tape.
After abit of thinking, ripping of seams & redoing everything I did this morning, I finished the corset & it looks good.
I also made a little tiara with pearls to go with the dress, but I didn't get a good photo of it.
Here is a close up of the corset, I only had silver eyelets, as I'm not a big fan of gold, but they work quite well, I would have used gold eyelets if I had them.
There is a cream coloured sleeveless dress underneath the voile overdress, the arms are open from the shoulder to the wrist. There is a small pearl button at the wrist hiding where I stitched the arm together.