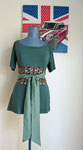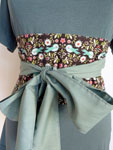 A jersey top I made a few months ago & one of my latest projects, an Obi belt. I plan on making more of these in some lovely Amy Butler fabrics that I have & selling them on Etsy. So keep checking the blog if you are interested in a Amy Butler Obi Belt! =)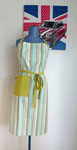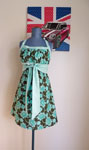 I made these aprons for my lovely friend Erica, she chose among the Amy Butler fabrics that I have & asked for an apron for her bf, which is the stripey one.
And for herself she wanted one like I made for myself long ago, using the lovely Emmeline apron pattern. I'm loving the pink side, I didn't think I would because the darker fabric is one of my favourites.
On another note, I love my birthday present that is hanging in the background. It's just so Me! I love the new Mini Cooper, it's my dream car, I will be a very happy girl if I ever get enough money to buy one =D The fact that the Mini is on a Union Jack, just makes it that much better =)